Jen's Gem: God loves you just the way you are.
I recently put my house on the market. It has gotten a lot of attention in these first days and today is the open house. I am believing for an offer soon so that my children and I can be in a new place by the end of the year.
For the past couple of weeks, my son and I had to ensure that our house was picture perfect. Every personal item had to be put away. Daily necessities like toothbrushes and coffee cups had to be removed so that the potential buyers would not be distracted. It has been a bit challenging to always have to be "on" in case someone wants to see the house.
Despite getting high marks from my realtor and prospective buyers, I find myself continually searching the house to see what else I can tweak to make it more attractive.
Perhaps the books should be horizontal. Perhaps the TV remote should be on the shelf. Perhaps I should do this or that to entice future owners of this house to sign on the dotted line.

Over the past ten years, I've sold or donated more possessions than I can count so that I'd be ready when this day arrived. I've remodeled my kitchen and bathrooms. I've repainted in neutral colors that would appeal to the masses. I've done all I can – followed all of the "home selling rules" to earn the approval of my home's future residents.

However, I sometimes find myself questioning my past home improvements. Maybe I should have added a garage. Perhaps I should have put in central air conditioning or purchased stainless steel appliances. The truth is – even if I did these things, they still might not be good enough.

As I walked through my showroom-ready home this morning, I was filled with a sense of gratitude.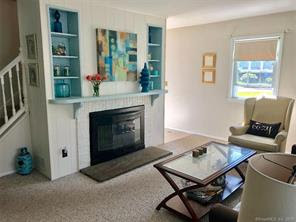 While I was bound by a slew of rules to prepare my home for sale, this rule-following approach does not apply to my relationship with God.
Because of Jesus, I don't have to follow the 600 plus laws of the Old Testament to be loved and approved of by God. His love and forgiveness is not available to me because of what I do, but because of what Jesus did.

"The Word became flesh and made his dwelling among us. We have seen his glory, the glory of the one and only Son, who came from the Father, full of grace and truth." John 1:14

This was the whole reason Jesus came to earth – to free us from the laws that no human could possibly follow 24/7/365 and to present us with a new paradigm – grace through faith in God. Isn't that amazing? Let's unpack this because its simplicity is mind boggling.

No matter what we do, God will always love us and forgive us. Jesus made this possible. In the days before Christ's time on earth, the only way the Israelites could be forgiven of their sins was to take them to the priest each year. Yes, you read that right. Once each year!
So for 364 days, these people had to be walking around feeling condemned, guilty, and hopeless because they knew they'd broken God's commandments and could not be forgiven until this ritual took place. How sad!

I can't even imagine how this must've felt, which is why I'm so grateful for what Jesus did for me – and anyone who chooses to believe in Him. Any time, any day, we have full access to God because Jesus made the way for us.

"Jesus answered, "I am the way and the truth and the life. No one comes to the Father except through me." John 14:6
We can have a personal relationship with God because of His Son. We don't have to go to a priest in order to talk to God, to ask for His forgiveness on our behalf, to claim the many blessings He has for us.
We don't have to perform sacrificial offerings or "do penance" or work ourselves to the bone to earn His love. His love and forgiveness is a gift, freely given, and is available 24/7/365.
This is freedom my friend. True freedom. This is like me being able to leave my home in "as is" condition and a buyer loving it, just the way it is.

This week, I'd like to encourage you think about your relationship with God and His Son, Jesus. Are you hoping to earn His love and acceptance? Are you exhausting yourself (and perhaps others) with your endeavors to be "on" all the time? Unlike my home, which has to be picture perfect to be sold, you and I don't have to be.

So, take down your for sale sign. Jesus already paid the price, and more.